The trailer looked impressive and, as someone wrote beneath the trailer on Youtube: "Michael Shannon? I'm in!"
Michael Shannon
I sat through an advance showing of Jerry Bruckheimer's latest Blow-Em-Up Shoot-Out at the Afghanistan Corral, "12 Strong," which opens wide January 19th, and all I can say is, "Boy! They must have paid Michael Shannon a s—load of money to make this!"
It isn't just Shannon who is wasted on this supposedly "declassified true story of the horse soldiers" in Afghanistan. (*Potential spoiler: All of them live to tell about it, and we get to see the REAL soldiers at the end of the film in a group shot.)
Michael Pena
Other cast members who lend their talents to this thing are everyone's favorite Hispanic All-Around Actor, Michael Pena, and the heartthrob from Down Under, Chris Hemsworth ("Thor"), as well as Taylor Sheridan (Brian), Rob Riggle (kept waiting for the funny stuff) as Colonel Max Bowers, and a cast of zillions of stuntmen and more explosive charges than I can remember since "Apocalypse Now."
Chris Hemsworth.
THE BAD
Character actor William Fichtner, WITH hair.
Another actor in this Nicolai Puglsig directed movie based on the Doug Stanton book (script by Ted Tally and Peter Craig) is the always dependable William Fichtner, who has been a character actor par excellence since as far back as 1987. The 62-year-old actor has about 7 films in production in 2018 alone, but what, in heaven's name, was the idea behind having him SHAVE HIS HEAD for his role as Colonel Mulholland?
Ugh. Fichtner has a nice head of hair, as seen during his appearances recently on the TV series "Mom" (and elsewhere) and his is not the kind of head one should have to see shorn nude. He has a typically schmaltzy dialogue exchange with our hero, Chris Hemsworth (Captain Mitch Nelson) where he gives him a piece of iron from the Twin Towers that melted down during the 9/11 attack and tells him to carry it into battle to remember why he is fighting or some such.
Whatever Fichtner said, I was too focused on his bald pate to care or remember. It was a bad look. I hope his hair grows back. (At 62, shaving one's head might be "the end of hair as we know it.")
Of course, as someone else pointed out, perhaps it was a "skinhead" wig. I certainly hope so, because it was a truly awful look for Fichtner and for the film.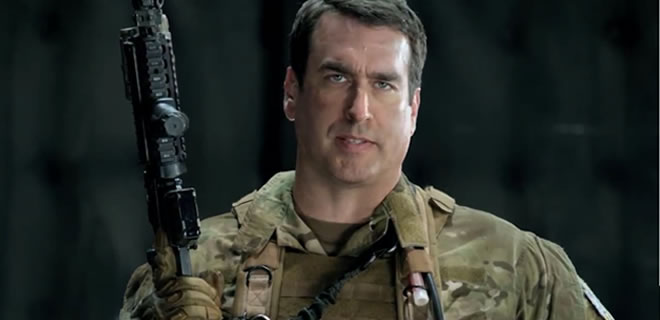 Rob Riggle
And the casting of Rob Riggle—who, I believe, actually WAS a Marine—as Colonel Max Bowers was— odd. When you see Rob Riggle, you think "funny" and this is not a funny film.
Nor was it, for me, an entertaining one. I needed a stiff drink immediately after it was over; it was long. It's difficult to tell you how long. I searched fruitlessly for a mention of the length of this film. It seemed like it went on forever. (Actually, it was 2 hours and 10 minutes, which is still much too long.)
If you enjoy watching things blowing up and hearing an endless series of huge explosions, by all means run, do not walk, to the nearest theater where this thing is showing.
If you enjoy schmaltzy, seen-before, not-that-original war stories: ditto.
If you just want to see Hemsworth lift that hammer. Oh, wait. Wrong movie,
[Chris Hemsworth does not hammer anything in this one, although he is our lead and the All-Around Wonderful Loving Husband and Father who leads the charge on horseback, no less, against tanks and insurgents of the Taliban.]
THE GOOD
The cinematography by Rasmus Videbaele was sometimes quite impressive, with three Chinook helicopters lifting into the sky against a sunset horizon. The explosions, as well, would have required technical expertise, so good job of not blowing anybody up for real.
Navid Negahben (General Dostum)
Two actors who portray natives fighting alongside our boys should be singled out for mention, Navid Negahben as General Dostum and Fahim Fazli as Commander Khaled. They turn in credible acting jobs, as do the others packed in this piece of war propaganda. General Dostum goes on to become head of the country, we are told.
Fahim Fazli as Commander Khaled with Chris Helmsworth on location.
This film, with its 16 producers and its non-stop deafening roar, reminded me of movies going back to "the old days" that featured the likes of Aldo Ray, Audie Murphy, and, at one point, the recently-deceased Don Rickles in a dramatic role, fighting battles of World War II,
Only now there are infinitely more explosions. Be warned.